(post by Virginia Allain) Did you get a May basket on your door knob today? I don't know if this is mostly a mid-western custom or if it is more widespread. Growing up, we made May baskets to hang on the neighbors' doorknob on May 1st. We filled these with spring flowers from our yard like lilacs or daffodils.
The baskets were crayon-decorated sheets of paper shaped into a cone with a paper loop attached for hanging. I'd assumed the custom had fallen by the wayside in these days of cell phones, non-stop television, and reduced neighborly interaction.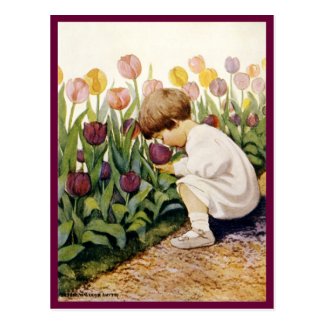 Picture Credit: 
Tulip Garden Postcard
Surprisingly, I found it's going strong in small Kansas towns, at least in my folks' neighborhood. In sorting my mother's writing room contents after her death, I found several May baskets with the names of her neighborhood children scrawled in colorful letters on them.
They obviously pleased Mom, as she hadn't thrown them away. These had paper flowers and some artificial ones. I'm sure these made the day brighter for my mother, to see the old custom being continued. Happy May Day to all of you.
Happy May Day to all of you. Mark May 1st on next year's calendar so you can help your children or grandchildren make their own may baskets to take to elderly neighbors.