Gail Lee Martin – "As a kid, we made snow ice cream. We never used the first snow of the season or the top snow which might be dirty. Digging down in a drift we came up with pure clean snow. Mother would whip it together with sugar and cream. Just set it outside to freeze a little more. Boy, it was good." December 2006
On December 1, 2006, Gail's grandson-in-law had posted, "southeastern Kansas received up to 16 inches yesterday.   It was still snowing at 10 pm in the southeast.   We got it pretty easy in Wichita and the surrounding area." That triggered her snow memory and also the following ones.
Gail's granddaughter, Kristy added a comment on December 5. "My new dog LOVES the snow.   She would play in it for hours.   All three (the twins and the dog) like to eat snow.   WE made 3 snowmen, 1 snow dog, and 1 snow cat before the cold forced us inside."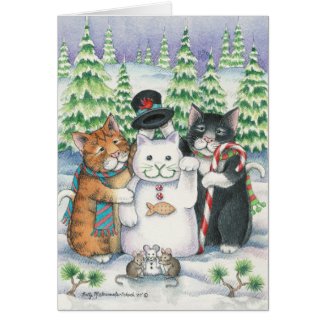 Gail's sister, C.J. Garriott liked that idea and added, "I'd love to see photos of snow dogs and snow cats! When we had our big snow in Texas for Christmas 2004, I went out in front of the house all set with the camera, leaving the front door open, and was intending to get photos of my cats in the snow. The scamps took a few steps on the porch, shaking each foot in succession, and went back in!"
Gail's daughter Karen added the January update, "Our first taste of Winter 2007 is headed in and it's going to be a whopper! We got a nice layer of ice yesterday and the north wind has been howling since then, too. Now they're watching a big storm system start to move through, with about 5-7 inches of snow expected in this part of southeast Kansas. Schools everywhere seem to be closed, so the library gets a snow day, too. Bitterly cold. A good day to stay inside and count your blessings, I think.
We haven't ventured out into it, but it sure looks like a lot of snow out there. C. has been home since Wednesday with a bad sore throat so didn't get to enjoy yesterday's snow day from school.   I've been taking some vacation time this week to finish up final assignments in the Children's Literature Update class I'm taking this semester at Emporia State University, so I haven't got to "enjoy" being home until today (got my papers finished last night!).   We ordered in pizza last night (bored with the food on hand) and tipped the delivery guy handsomely for coming out.   The cats are staying warm, either on laps or their beds or huddled by heat vents.   Annie especially seems to have a hard time with the cold; of course, Olive, being a Maine Coon, could probably be outside in it quite happily."