Zane Grey, Louis L'Amour, B.M. Bower, William McLeod Raine… do those names ring a bell? These are authors whose vintage westerns continue to have a strong appeal.
Westerns were in heavy demand at my library when the retirees flocked to the area for the warm winters. These older men grew up watching Hopalong Cassidy, Roy Rogers, and Gene Autry weekly at the movies. Cowboys wore white hats and overcame the bad guys. From the 1920s to the 1950s youngsters imitated their favorite cowboy, wearing a vest and a cowboy hat, and gripping a six-gun in each hand.
Vintage Cowboy Singing to his Horse Round Sticker
Their movie heroes are long gone, but the western novel remains popular with this audience. The faithful readers may be seventy, eighty or ninety but as long as their eyesight holds out, they'll read their westerns.
Memory Flashback to 2007: Reading is a pastime that brings lifelong pleasure. My dad keeps a stack of his favorite westerns on a bookshelf near his comfortable chair. They are ready for re-reading at any time. In between, he goes through lots of paperback westerns. His family keeps him well-supplied with the paperbacks picked up at yard sales. Eventually, those get recycled to the used bookstore in town or donated to the library's book sale. Then he returns to reading Zane Grey and B.M. Bower once again.
I Loved Reading Vintage Westerns Too
Back when I was in school, I started reading the old westerns that filled the shelves in our home. Those were favorites of Dad's. I found I liked them a lot, so started picking up additional titles at the public library that were missing from Dad's collection. Later, I'd watch for the old hardcover classics from the 1930s and 1940s whenever I visited a flea market.
I still had a lot of those vintage westerns on my book shelves but needed to thin down my collection. Since I didn't want to just give them to the thrift shop, I started passing them along to Dad the last few years of his life. Even if he had read them several times before, he was always glad to read one again.
I should have gotten Dad a mug like this for his coffee.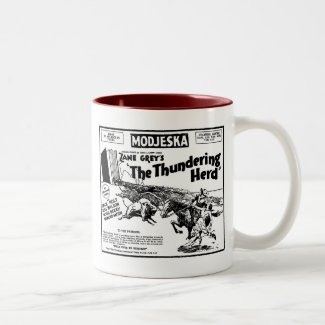 Thundering Herd 1925 movie ad Mug
(This essay was previously published on Squidoo by Gail Martin's daughter, Virginia Allain)