A childhood memory from Gail's daughter, Virginia Allain.
A Great Patriotic Musical
"For I'm a Yankee Doodle Dandy…" Who can resist singing along with this great patriotic song?
When we were kids, every fourth of July we took time away from the firecrackers and hand-cranked ice cream to watch Yankee Doodle Dandy on television. There was something so satisfying about George M. Cohan's vintage movie that made our hearts swell with patriotic pride and made us chime in singing along. It was an old movie, even back in the 1950s when we made it part of our 4th of July traditions.
I'll share with you here some of the wonderful songs and scenes from Yankee Doodle Dandy. Have fun listening to the songs and watching the YouTube scenes from the movie.
Here's the Movie Trailer for Yankee Doodle Dandy – The movie won an Academy Award.
You can buy a DVD of Yankee Doodle Dandy, so you can watch more than just these video clips
Sit down with the family and watch this vintage musical. Sing along with the catchy tunes. Admire Cagney's cheeky charm and his singing and dancing.
My sister was thrilled when someone gave her the original sheet music for "Over There." She framed it and has it hanging in her dining room.
Every heart beats true 'neath the red, white and blue!
The following video is a Tribute to George M. Cohan – containing many of the songs from Yankee Doodle Dandy.
Other Movies with George M. Cohan's Music
The Seven Little Foys
Cohan: Over There
Give My Regards To Broadway
 Now, It's Time to Sing Along –
Just sing along with me, "For it was Mary, Mary, long before the fashions changed...", then march around the room singing "For I'm a Yankee Doodle Dandy. Yankee Doodle do or die. A real live nephew of my Uncle Sam, born on the 4th of July." You can wave a little flag while you march, to really get in the spirit.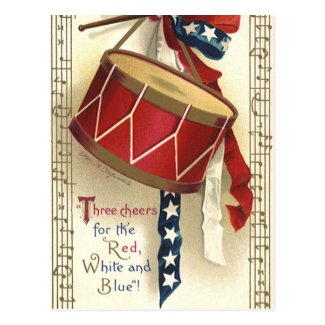 Vintage Patriotic, Drums with Musical Notes Postcard
by YesterdayCafe
When I shared this with my friends, here is their response:
Ann – Haven't given it a thought in years, but now all the songs are running through my head. Guess I'll have to watch it too.
Nan – Oh me! It has been a long time since I have watched Yankee Doodle Dandy and I need to do that again soon. Thanks for reminding me.
Wendy – Yankee Doodle Dandy was one of my all-time favorite movies. I loved all James Cagney's musicals (he was a fantastic dancer), but Yankee Doodle Dandy was the best. I've seen it many, many times. Perfect choice for the 4th of July!
Marcella – I remember watching this old movie rerun when I was little. What an energetic guy Cagney was.
Lori – My favorite movie as a kid. I loved when he says he thought the 4th of July fireworks were in celebration of his birthday!
Nancy – This movie and James Cagney have always been two of my favorites. He was a hoofer long before he became "Public Enemy Number One," (another of his movies), and I think he's delightful! Love the songs, they make me puff up with pride and get tears in my eyes.
Diane – I'm afraid I just can't think of this song without remembering Prince Poppycock singing it on America's Got Talent. Watch it on YouTube. As the judges say, it is a spectacle you won't soon forget.
Philip – I can't say that I was a "Little Johnny Jones", but there is a lot about this that I can relate to. I think that George M Cohan is a musical genius.
Melinda – James Cagney was great in this movie. One of his finest performances in my opinion.
Cressy – Love, love, love it! Here is it Labor Day and what better way than to listen to songs like Grand Old Flag and Over There. It's inspiring. This music makes me want to pay more attention to my country, remember more often the patriotism that binds every American to this land of the free and home of the brave. Thanks for this lovely journey filled with memories.
Nonni – This movie is one of my favorites, with wonderful, uplifting songs…George M. Cohan was a truly patriotic man and is played to perfection by James Cagney. This is a great Independence Day celebration movie.
Robby – Yankee Doodle Dandy is a great film and a superb sing-a-long tune that is famous in the UK too. We also have some rousing English music and songs such as Land of Hope and Glory, Heart of Oak and, from a film roughly the same era as Yankee Doodle Dandy, The Dambusters!
Dusty – My high school senior musical was "George M" so I know a lot of the songs from the movie because of that. I love the movie, it's one of the best ever…