Childhood memories from Gail's daughter, Virginia. 
All you need is a jar
Running around the yard at dusk trying to catch fireflies was such fun. My parents relaxed in lawn chairs, while we used up our excess energy. The grass felt cool under our bare feet.
Putting the fireflies in an old peanut-butter jar let us admire our captures and provided a small lantern as the fireflies lighted up. Dad had punched some holes in the lid so the fireflies could breathe.
The lights blinked on and off, keeping us enchanted by their activity. At the end of the evening, we released our captives and headed inside to bed.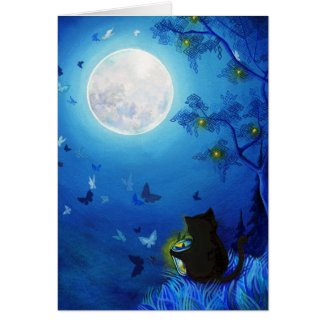 Butterflies & Fairy Lanterns Card  by AnnyaKaiArt
Remember Catching Fireflies? Tell us about your childhood memories of summer evenings.