Gail wrote this in an email back in September 2011.
I once took a hand full of Jacks and the ball to visit a group of elderly people like me and tossed them out on the table and started playing jacks like we did as a kid. Then asked them to write about the games they remembered resulting in some very good stories.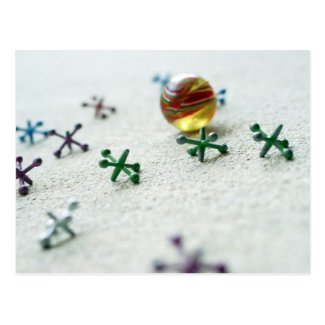 Childhood Jacks Postcard
by cinnamonbite
Another time I took maple seeds and threw them up in the air and as they came swirling down like miniature helicopters everyone laughed and remembered doing that too. I really like getting others to write their memories.
My one almost failure was when I asked a group of ladies to write about the doll they remembered most and one lady started to cry. We finally found out she had never ever had a doll. So I quickly talked her into writing about the doll she had wished for the most. One of the ladies had a large collection of dolls from her childhood and at our next meeting she brought one to give the other lady and yes that brought tears to all the group.
I had them put their stories into 3-ring notebooks and recommended they make copies for all their families. That was one wonderful group. If I remember right there was around 25 to 30 ladies and one man in that series of writing meetings. We each took turns reading our stories. Memory writing is so important to the writer as well as the readers. 
 Here are some
memory prompts
for you to start writing about your childhood.