Gail Lee Martin and Monte Manka first met on the Our Echo website. Gail served as the webmaster and encouraged everyone who posted there. She commented on every poem and each essay. Monte was the same generation as Gail, an octogenarian, who grew up just a few miles from where Gail lived in Kansas. Now he lives on the west coast, but through the serendipity of the Internet, they met online. Learn more about him below.
Sharing an Octogenarian's Poems and Memories of the Great Depression
Monte Manka grew up in Chelsea, Kansas in the 1930s. Now in his eighties, he records his memories in poems and essays for future generations to understand what it was like in those days.
This webpage is just one in a series that features Monte Manka's poetry of the Great Depression. This octogenarian retains vivid memories of Kansas farm life and his youth. He still writes poetry and posts it on the Our Echo website. Don't miss the other webpages with Monte Manka's poems. They include such old-fashioned topics as pie suppers and chivarees.
(photos used with permission from Monte Manka)
The Old Homestead
a poem by Monte Manka
As I travel across the State
I had to see
The place where I was born
Out there on the prairie
The old house is still standin'
Out there in a pile of dust
The windmill still upright
Now just a tower of rust.
That lone post in the front yard
Where once hung that dinner bell
To call Dad in from the field
To eat and rest a spell
Is slightly leaning
Warped by wind and heat
To hear that bell ring one more time
Would make my life complete.
That old front porch
With that bench swing
We'd sit there in the evening
And hear the locusts sing.
I remember fields of green grass
That yielded tons of prairie hay
To feed the livestock
On a cold winter day.
Then Mother Nature
With a twist of fate
Turned on a four-year drought
Just when things were goin' great.
A cyclone blew down the barn
Ripped shingles off the roof
Dust started blowing in
Doors and windows, not dust proof.
Nothing but drifted soil
Now and then a tuft of grass
If only those happier times
Could last and last.
Dad had a part-time job
Working for the State
We moved into town
Before it was too late.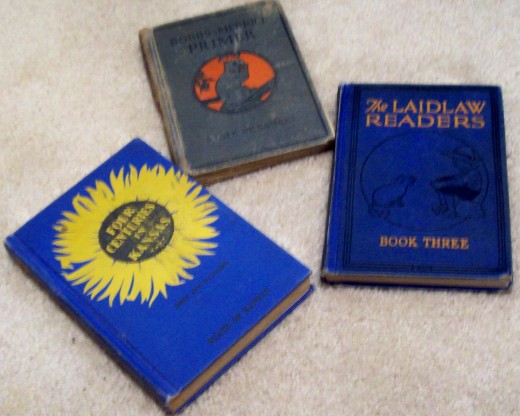 Monte Manka's Dust Storm Memories
"We held Chelsea School outside the schoolhouse. The air in the Schoolhouse hung heavy with the dust. We would go to the pump and wet our handkerchiefs and hold them over our nose as we read out of our Bobs Merrill Primer". …
He continues on telling about having to dust off the paper before writing the lesson. You'll enjoy his memories.
(Excerpt from Lost in the Front Yard by Monte L. Manka. There is more on the Our Echo website.)
Monte Manka's Poems and Essays on the Our Echo Website – Visit the site to read all of Monte Manka's writing
Our Echo provides a supportive community online for writers to share their family memories and other writing. It's a great site to post your memory pieces on for your whole family to enjoy.
Monte Leon Manka
Read more than 80 of Monte Manka's poems and essays. Check back often as he posts more almost every week.
Monte Grew up on the Farm
Monte Manka: "Me and the Oliver Hart-Parr after it was converted to rubber–There is a tractor.
This tractor had steel wheels and was a rough riding machine. When the wheels were changed and rubber tires were put on it was a pleasure to ride down a gravel road to the field."