Our guest blogger today is Monte Manka. He grew up in the 1930s like Gail Lee Martin did in Central Kansas. They met later in life through their writing when both were in their eighties. Monte writes poems and lots of nostalgia pieces. He just had his 91st birthday this week!
THE GOOD OLD DAYS ????? – MILK
 I went to the grocery store today and got a half-gallon of milk and it started me to thinking—
In the good old days, I would get up in the morning in the early A.M. and set under the Holstein or Jersey and pull on those warm teats and get my milk. With my head buried in her flank, I could tell if she was going to kick me or not and I could get out of the way. (was not always successful though.) I loved to be hit in the head with a tail full of cockle burrs or in the winter time a tail with frozen urine on it. The feeling was the same, a bump on the head. When it was 100 degrees in the shade or 27 degrees below zero those critters had to be taken care of, come rain or shine.
Then those calves would come along and you had to train them to drink out of the bucket–more problems–they seemed to get something wrong with them and you had to doctor them, more problems. When you finally got the milk into the house and separated, you had to wash the separator. This was another chore of mine. One part had 123 disks on it and they were numbered. The disks went in numerical order. The buckets had to be washed and by that time it was time to do it all over again. BAH TO THE GOOD OLD DAYS.
THE GOOD OLD DAYS ???????  – BREAD
While at the grocery store I also got a loaf of bread and it started me to thinking again.
In the good old days, we took our wheat to the mill at Cedar Point and had it ground for flour, cracked wheat for breakfast food, and then took it home. Mother made bread from the new flour. The old wood stove felt good in the wintertime but was hot in the summertime.
I spent time plowing, disking, harrowing and drilling the wheat. This was always in the hottest time of the summer when you would either thrash or combine. I always missed the Rodeo at the Countryman Ranch at Cassoday. After sitting on the tractor with the heat from the tractor motor blowing in my face, and the combine engine blowing hot air on my back, I was well done by the time the day was finished. Then to the milking again.
That wheat, that seems easy to raise is a gamble-one year it was a disease called RUST, the next it was a hail storm, the next it was too dry, the next it was too wet, the next it was the grasshoppers, that year was a plague about 1931, the corn on Teters farm east of El Dorado a couple miles, had no leaves left on the stalk after the grasshoppers visited them. I think you have better odds on the crap table in Las Vegas. One year Dad got a check from Kansas, City Grain for $2,000.00 for a carload of wheat, we took turns feeling it. Out of six years, we had one good harvest. The good old days- Yeah sure
THE GOOD OLD DAYS?????? – MEAT
While at the grocery store I was told to pick up some pork chops and that started me to thinking —–
We had a mean old sow. She bit my uncle on the leg and put a couple gashes in it. He did not quite make it over the fence.
Now, this sow was the ugliest thing you ever saw and I could never see what the boar saw in her. She would have the most pigs and the healthiest pigs of any of the good-looking sows. These hogs would have to be watched closely to keep them free of screwworms. More work more worry.
Once we had a bout with cholera and we lost 50 head that was ready to go to market. Needless to say, we had a big barbecue, too bad that we could not eat the meat. My uncle would give my brother and me a pig to sell if we would help him take care of them. One year we got $3.00 for our effort a few years later we got $6.00 then the market started to rise and no more free pigs. The good old days Phooey.
A Few Good Things about the Good Old Days
There were some things that were good like the filling station on the corner. Nufer's gas was 18 cents a gallon but you got your tires checked, windshield washed, oil checked, a smile and a thank you. The good old days, Yeah.
When you came to town on Saturday you could take ten wrappers from ten Golden Crust bread loaves and get a free pass to the Eris and see the latest Ken Maynard western. I do not remember what the popcorn or soda was then, probably ten cents. After the matinee, we would go home and milk those stupid cows, and start another week of fun. Yeah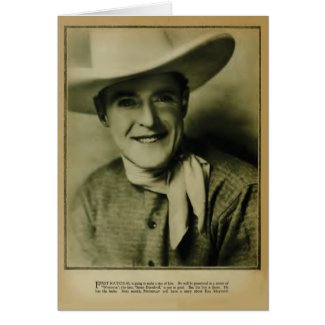 Ken Maynard 1926 vintage portrait card
Another good thing-a handshake was as good as a signed contract, Not now it seems like the honest people are getting fewer and farther between. Out here you had better have twenty signed contracts, even then someone will break them all, and you are stuck with a lawsuit.
I always hear someone saying "Oh for the good old days." I think back and no TV, no VCR, no microwave, no late model car. My gosh, I wouldn't trade today for anything.
Written by Monte L. Manka