Read to Your Children –
Reading to children is so important. Not only does it allow you to bond with the child, but it teaches them how to pronounce words and expand their vocabulary. They will also learn how to read and to spell words as they get old enough to follow the text on the page as the story unfolds.
My mother read to us often when were quite young, and I grew up loving words and loving books. All my siblings did as well and became lifelong readers. It's a tradition passed down through generations. My mom (Gail Lee Martin) remembered her parents reading aloud to her and her sister after dinner. They gathered around the table with an oil lamp in the center to listen to the stories.
Today's world is a bit different, and books are now available on reading devices, and when you're traveling, these are awesome. You can bring your child's favorite books along with you without having to pack bulky, heavy paperback and hardcover books.
The Kindle and other reading devices are ingenious! Take it with you anywhere you have to wait, like the doctor's office. Read to your children today and every day!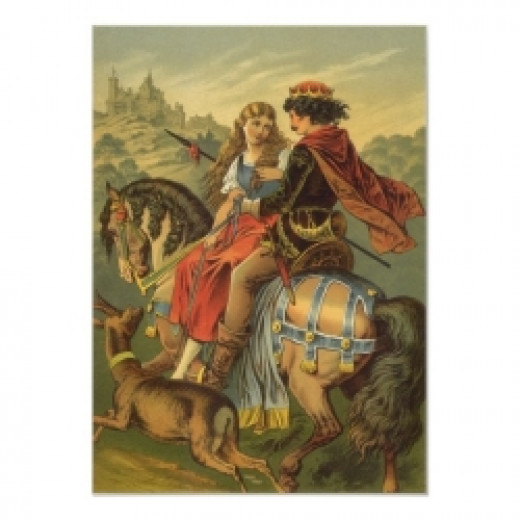 This poster is from Zazzle Vintage Fairy Tale by YesterdayCafe.
Free Kindle Fairy Tales to Read to Children
Fairy tales from around the world thrill a child with new adventures and exotic locales. Best of all these vintage tales are free for download on the Kindle. Below are the links to get these fairy tale books from Amazon.
Check the price to be sure it hasn't changed, then click to BUY the book for $0.00. Amazon will send you an e-mail confirmation that you have bought the book for free. It's easy and you'll have new stories to read your child each day.
Reading to your children will help their imagination to blossom as they create characters in their heads that go along with the stories. Most of these lack illustrations. Generally, the illustrated versions for Kindle cost 99 cents or higher.
The Blue Fairy BookView Details
Fairy Tales Every Child Should KnowView Details
Grimm's Fairy StoriesView Details
The month of May is Get Caught Reading Month so let's all participate by reading a good book and by encouraging our children to read as well.