When Denise Doucette performed at Lake Forest Resort in New Hampshire one song brought tears to my eyes. She writes many of the songs that she sings, but this one was written by her mother, Becky Doucette. They sing it as a duet. Here's one of the lines from the chorus.
That was my mother's chair, she rocked her babies there
I'm sure my mother would have loved this song too with its nostalgic theme of an old chair in the attic bringing back memories of rocking the babies to sleep. You can hear the song, Rocking Chair, on YouTube.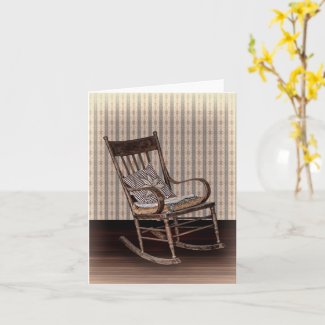 Vintage Rocking Chair Note Card
Denise Doucette is a professional performer who happens to spend her summers in New Hampshire. This year, with group activities canceled pretty much everywhere, it must be frustrating for someone used to performing regularly throughout New England and in Canada too.
After you finish listening to Rocking Chair, go ahead and listen to the beautiful songs written by Denise. I love Heart to Heart and Moon Sparkles. Her mother's song is very much in the country tradition, but Denise has a more contemporary sound in the songs she writes and performs.