This is a variation on an earlier post. Gail often reworked a topic for publishing in other places. This appeared on Squidoo's website.  Some of these gifts are ones you can get ready the day before Christmas using what you have at home.
Giving Gifts without Spending Too Much
Seniors can find gift-giving occasions difficult when their budget won't stretch to buy one more thing. Here are some gift ideas that won't put a strain that Social Security income.
Most of these I've tried out myself and can assure you were well-received. A little imagination and a lot of love will make your gift the one they treasure. With six children, eight grandchildren, and many great-grandchildren, the Christmas and birthday gift giving was a challenge. Seniors living only on Social Security must apply creativity in their gift giving to keep it affordable.
Give a Family Treasure when you can't afford to go shopping
Think about things you have stashed away unused. We no longer decorate a tree at Christmas, but we still have boxes and boxes of special ornaments. I can give one to each person on my gift list. I'll gain some storage space and they'll gain a family heirloom for their Christmas tree.
Antique Ornaments Postcard
by Jack_of_Arts
 Give the Gift of Memories
Grandparents' memories make a precious gift
Write down a special memory of the day they were born or about something you did with them or their parent. Print it out or write it by hand on nice paper to give them. Slip it in a plastic sleeve to preserve it. If you write a new memory for their birthdays and Christmas, eventually they will have enough to fill a binder.
Write On! Quill Ink for Writers Card
by WriteMore
Here's One of My Grandchildren's Family History Books
That I compiled with my writing over the years
Vintage Books Make Great Gifts
from a senior citizen
Look on your bookshelf. Is there a book there that has special meaning to you? Write a note explaining what is meaningful to you about the book and give it to someone on your list.
 They will enjoy reading it, knowing that you selected it especially for them.
Everyone Loves Grandma and Grandpa's Baking
Food gifts to give when you're on a tight budget
Make up a batch of your popular candy or cookie recipe and package it up to give to the children and grandchildren. Just a small amount on a paper plate (dessert size) and covered with plastic wrap lets them know you were thinking of them.
Attach the recipe to the gift.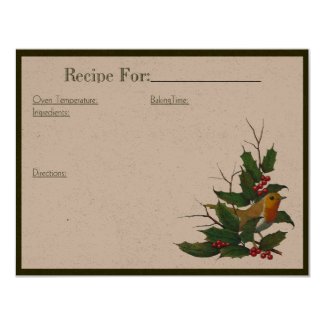 Recipe Card: English Robin
 by joyart
To make it extra special, put them on a plate or platter that has been in the family for many years. They get a family heirloom, some of your great cooking, and you gain some space in your overcrowded cupboard.
What Do You Collect?
 Look at your collections. Chances are you aren't adding to the collection anymore. It may be just one more thing to dust.
We collected Norman Rockwell mugs for many years. If we give one to each family member, they will think of us each time they use it. We also collected Feather Bird Pictures. They used to cover the wall of my dining room but now sit in a box in the closet.
Another thing I collected was vintage aprons. I used these when giving a talk to homemaker groups or at nursing homes.  At some point, you may decide not to keep a certain collection anymore. Consider giving them as gifts to family members.
Even if you are not on a Social Security budget, you might want to try some of these ideas.
Give Me Some More Thrifty Ideas
for gift-giving on a Social Security budget
 1angelsbestkeptsecrets Mar 27, 2014 –  What wonderful ideas! I think the sentimentality and specialness of gifts like this would please most all family members.

karendd123 Nov 26, 2013  – These are really good ideas. They are thoughtful and economical. Growing flowers from seeds or cuttings can make good gifts too.
ewyorkdude Oct 14, 2013 – I can't remember the last time I bought a greeting card. Homemade greeting cards make a much better impression than the store-bought kind. Most people tend to keep them longer. I will never be a professional artist (my work is more like Picasso on a bad day). But no matter how awkward my drawings are on my cards, people appreciate them.

 rinMellor Oct 11, 2013 – These are wonderful ideas. A few handwritten family recipes would be a real treat too.

knowledgetoday Oct 08, 2013 – I think the greatest gift from grandma or grandpa to family members or friends is memories brought together in a creative way. And if creativity is not available giving a gift of what the other person has wanted for many years means much to the receiver.

MarcellaCarlton Oct 01, 2013 – I loved each idea! This has great tips for those of us who are experiencing the pinch at any time.

Cercis Sep 30, 2013 – What a wonderful article! I like the memory book idea the best. Another thought is to shop at a thrift store – either a neighborhood or one of the more established ones – to pick up almost new items for pennies.
WhyCleanCounts Aug 05, 2012 – great ideas, good topic for anyone that needs to stick to a budget around the holidays.

dpgibble Jul 06, 2012 – I was exploring Squidoo for ideas when your page caught my eye. Curious, I stopped and found a direct connection to vallain who was the first or one of the first visitors to my first article. Since our family survives on disability income along with a dollar here and there that we hustle up, celebrating Christmas on a budget piques my interest. We picked wild grapes last year and made pint jars of jelly from them. This produced about two dozen gifts with cash out at less than $25. People really liked this gift!

Gail-Lee-Martin Jul 06, 2012 – Homemade gifts are the best, in my opinion.

LiteraryMind Mar 16, 2012 – Good idea. Meaningful gifts are more special than anything money can buy.

MiddleSister Feb 21, 2012 – I like the cookies idea.