Cora Joy Martin shared some of her recipes with her daughter-in-law, Gail. She raised eight children and when the crops were ready, Cora fed a whole harvest crew. One of the recipes that Gail Martin inherited from her was her hardy sourdough pancake recipe.
You need to plan ahead to make these. The night before, you mix the milk, flour, salt and sourdough starter. Leave that in a warm place overnight. Check out the rest of the ingredients and instructions below.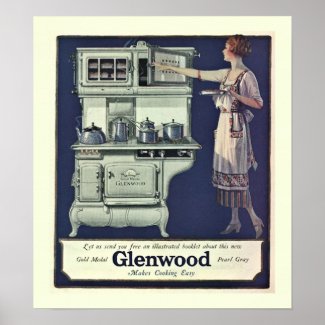 Art Deco Glenwood Stove Poster by Vintage_Obsession
Hearty Sourdough Pancakes Ingredients
2 cups milk
2 cups flour
1 tsp salt
1 cup active sourdough starter
2 tsp baking soda
2 eggs
3 tbsp melted lard
2 tbsp sugar
Mix the first 4 ingredients and let stand overnight in a warm place. In the morning, remove one cup of the mixture, to replenish the sourdough starter. To the remaining mixture,
To the remaining mixture, add the baking soda, the eggs, lard, and sugar. Mix well, then bake on a hot frying pan or griddle that has been greased. This serves 6 people.
Sourdough Starter (Cora's Version)
1 cup milk, 1 cup flour
Let the milk stand at room temperature in a glass bowl for 24 hours. Do not use a metal container. Then mix in the cup of flour and place it in a warm, but not hot place for 3 or 4 days. It is ready when it begins to smell sour and bubbles.
After that, keep it in a cool dark place when not in use. Stir twice daily. This was used before packaged yeast was available.
You can make the sourdough starter another way. Below is the recipe passed down to Gail Lee Martin by her mother.
Kansas Sourdough Starter (Ruth McGhee's Version)
1 potato, peeled and grated
3 cups water
1 cup sugar
3 cups flour
Combine the grated potato, sugar, water, and flour. Let stand in a gallon crock, lightly covered with a cloth for 3 days. Every time you remove a cup of starter for a recipe, add 1 cup of water, 1 tablespoon sugar, and 1/2 cup flour to the starter.
Gail Martin shared these recipes when the Butler County Historical Society collected 1920's and 1930's recipes. They were published in the cookbook, Grandmother's Legacy.