A childhood memory by Gail's daughter, Virginia.
What an ordeal the short trip to town must have been for my mother. Packing five contentious children into a medium-sized car wasn't easy. This was before the days of mini-vans. After the sixth child came along, we finally got a station wagon. In the three mile trip into El Dorado, we'd bicker whenever a brother or sister infringed on our space. Within the confines of the car, sibling rivalry had the opportunity to even the score with subtle elbow digs and shoves. It was hard to tell what was normal energetic kid behavior and what was malice.
El Dorado was an oil and cattle center east of Wichita, Kansas. It was also the county seat for Butler County, and our trips to town often included the century-old, brick courthouse. We'd climb the wide wooden steps to the third floor where the 4-H office was. Mom needed advice or pamphlets to use with the many project groups she led. Entomology, geology, cooking, gardening, and leadership were some of the topics she taught to groups of 4-H members.
Another frequent stop was the public library. In our younger years, it was the vintage Carnegie building on Central, but later it was the more modern building on Carr Street. The five of us, and later six, would fan out through the children's section browsing for favorite series like The Borrowers or searching for a new dog book by Terhune or a horse story by Thomas C. Hinkle. My ambition was to read my way alphabetically through the fiction section. Hampered by the library's limit of three books per child, I abandoned the goal after making it halfway through the A section. I did read all of Louisa May Alcott and Aldrich. Then I reverted to free range reading. While at the library, we lived in dread of fierce Miss Borger, the head dragon there, who shushed unruly children and accused them of having sticky hands.
Probably we did, as mom had a hard time corralling and getting all of us tidy and clean for a trip to town in the searing Kansas heat. No air conditioning in cars back in the 1950s. If we stopped at the Dairy Queen for a curly topped cone, then we were a sticky mess afterward. The ice cream melted faster in the 100-degree temperatures than we could eat it. The drips ran down our arms, spotted our shirts, and coated our cheeks and chins. No amount of scrubbing,  even with motherly spit applied on the flimsy paper napkins, could totally clean up the batch of us. 
Another summer feature of trips to town was swimming lessons at the city pool. I don't remember much of the teaching techniques, but they didn't seem to work well for me. I did learn to dog paddle and actually can float quite well. Otherwise, I flounder my way, thrashing and flailing, from one side of the pool to the other. We had nowhere to practice our swimming since our creek was just ankle-deep.
I remember trips to Woolworths, which we simply called the dime store. There we selected our plastic cowboy and Indian figures. These became part of elaborate wild west games played out in our large sandbox at home. With our imaginations fueled by watching Roy Rodgers and Gene Autry movies, we constructed landscapes and re-enacted the chases and clashes with our small plastic figures.
Also in town, we visited the shoe store that gave away pink and blue dyed chicks when we bought new shoes at Easter time. Probably town children took theirs home for a brief life span where an over-affectionate child squeezed the little fluff ball to death. Ours joined our flock of chickens on the farm, where they reverted to normal chicken colors as their feathers grew in.
For the kids, each trip to town was an adventure. For Mom, I'm sure, it couldn't be over soon enough.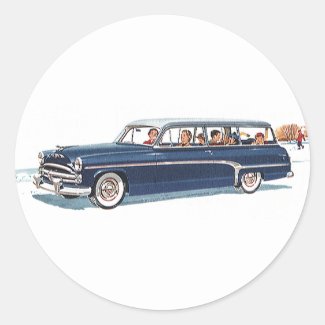 Station Wagon Classic Round Sticker
by Tchotchke
This story was previously published on the Our Echo website.